Dream team.

Monumental tasks.
These are the values we hold dear in our hiring process. Our goal is to assemble a "Dream Team" of exceptional talent, where capable individuals can focus on the product and refine their skills in collaboration. What Hello offers is an unparalleled team and the grand opportunity to change the world. Why not put your abilities to the test in such an environment?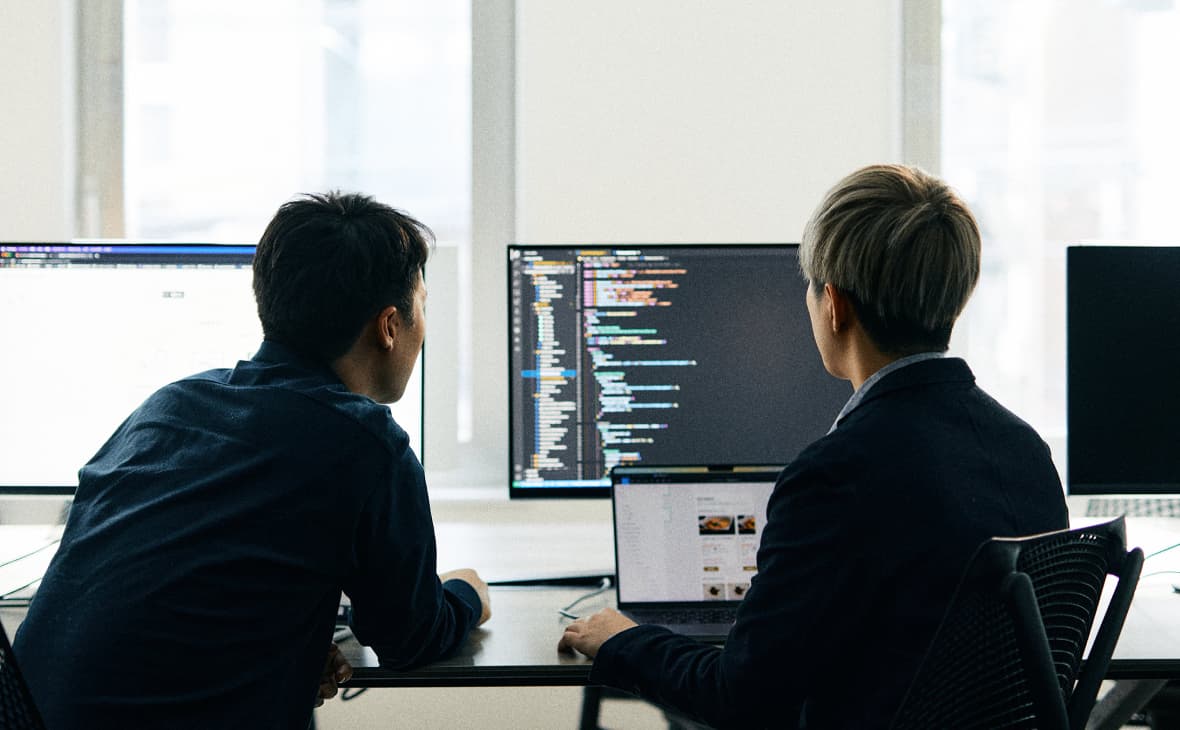 ( Mission )
Unbound by societal norms and common sense, we believe in our own unique ideas, and strive to create what has yet to exist in the world.
( Values )
Play Work

Work is play. Unleash your curiosity and spark your creativity through play.

Savor Friction

Friction shapes teams and ideas. Fearlessly engage in passionate debates without compromise.

Beyond Ordinary

Ordinary is dull. Dare to take risks and chase goals no one has ever conquered before.
( Members )
Tsubasa Sakai

Engineering Manager

Born in 1993. Experienced in developing new services from scratch as an engineer for three startups during high school and college. After studying abroad in Australia, he worked on the development of a new business unit for a blog service at a web-based business company as a new graduate. He joined Hello in October 2018 and has been involved in development since the company's founding. Currently leads the front-end development team as an engineering manager.

Learn More

Kensuke Ishii

Product Manager

Born in 1992. Joined DeNA Co., Ltd. as a new graduate in 2015. Started as a producer for operational titles in the game division, then took on roles such as launching new games and being in charge of new business ventures. Started working part-time at Hello from 2021 and officially joined in April 2022. Currently serving as the business manager for a SaaS business targeting the food and beverage industry.

Genki Shimoda

Engineering Manager

Born in 1989. After joining a talent company as a salesperson while interning during university, he learned programming on his own after starting a business with a colleague two years later, and has been writing code basically ever since. He later returned to Miyazaki and now works remotely on all aspects of Hello's development.

Hiroki Taguchi

Sales Manager

Born in 1993. After graduating from Waseda University, he joined Idoma Holdings Co., Ltd. and engaged in new business development and sales consulting. He transferred to Hello in May 2022 and currently serves as the sales manager for AutoReserve for Restaurants.

Learn More
Hello's Newsletter
Hello delivers an irregular email newsletter that provides various information about both internal and external topics.
( FAQ )
A

The selection process is as follows:

Document screening
First interview
Second interview
Lunch with team members
Trial
Offer discussion (based on the results of the interview and trial, a decision will be made regarding the offer)

The selection process typically takes about one month on average, but we are flexible and can accommodate candidates' availability.

*Please note that interviews are generally conducted online.

*During the lunch with team members, you will have a casual conversation with them. The purpose is to align and prevent any potential mismatch after joining the company by discussing roles, culture, and ensuring a relaxed atmosphere as much as possible.

A

Interviewee do not need to wear a suit. We would like candidate to attend the interview in regular work attire.

A

Generally, weekends and public holidays are considered days off. Depending on the nature of the job, there might be shift work assigned.

A

Remote Work

For all positions, full-time remote work is possible without a specified time limit. Working from locations other than the office or home is also allowed.

Flexible Hours
There is no core time requirement, so as long as the monthly designated working hours are fulfilled, employees can choose their daily working hours freely. This allows for an efficient work-life balance.

*For business roles, onboarding period may require in-person attendance, and subsequently, there may be a few designated office attendance days per month as needed.

A

We provide necessary devices such as computers and external displays, depending on the job requirements, to ensure optimal performance.

For full-time employees, we also have a computer assistance program. In addition to computers provided by company, this program covers 50% of the cost for personal computers.

A

Having a side job is allowed, but it is subject to approval. As long as it does not affect your primary job, you are permitted to engage in a side job, excluding employment with other companies.

If you are currently involved in a side job, we can confirm during the job offer stage whether it is permissible to continue that side job after joining Hello. Please consult with the hiring team if you have any questions regarding ongoing side jobs. Additionally, feel free to ask any questions about side jobs during the selection process if you have any concerns.

A

Please apply for the position that is most closely aligned with your interests and qualifications from the available job openings. Based on our discussion during the interview, we will recommend a position that is the best match for you.